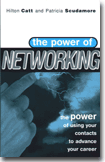 To find your ideal career in today's competitive market, you need more than just a good resume. You need to know how to get in direct contact with the people who can get you hired.
Whether you're fresh out of school, re-entering the work force or looking to advance in your field, acclaimed communications and career consultant Cherie Kerr will help you network your way to professional success.
Kerr encourages you every step of the way, sharing her own successes and challenges to help you overcome rejection, stay motivated and keep focused. She also includes a detailed "bibliography for the ardent networker" to put you in touch with resources that will get you networking in no time.
Here you have all the information you need to put yourself on the professional fast track. So take this guide, make the most of your valuable skills and network your way to a great career!
About the Author
Cherie Kerr has been an award-winning expert in the field of public relations and corporate communications for more than 20 years. She is the founder and president of ExecuProv, a company that teaches communication and networking skills to business professionals throughout the country with clients including Banc One, GTE, Nissan Motors and Mitsubishi. She lives in Orange County, California.
By Cherie Kerr
ISBN 1-55870-501-5
P 745.00