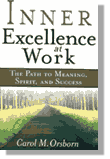 To get ahead in life, you simply have to work long and hard, right? After all, hard work is the foundation of the American dream. But these days people are discovering that working harder – and even smarter – doesn't guarantee the dream will come true, and that by sacrificing their personal needs and desires to ambition and success, they've taken the meaning and joy out of both their personal lives and their work.
If this sounds familiar to you – if you've been fueled by ambition, single-mindedly pursuing success, and wondering why you feel so empty – Inner Excellence at Work is just what you need.
Based on author Carol Osborn's highly acclaimed and successful teachings about spirituality and success, Inner Excellence at Work provides an enlightened approach to career and life management. According to Osborn, success need not vie with your deeply held principles and quality-of-life desires – in fact, by being true to those instincts, you can achieve your greatest success ever (while working less !).
About the author:
Carol Osborn was among the vanguard of business-people who pioneered the application of spirituality in the workplace. She lectures and gives workshops all over the United States. She has often been featured in national print media, and has discussed her beliefs on television. She is the author of numerous books that have been translated into 10 languages, including Solved by Sunset, The Art of Resilience, and Return from Exile, and is co-author of How To Speak the Language of Healing. She lives in Nashville, Tennessee.
The Path to Meaning, Spirit and Success
By Carol M. Osborn
P 1,225.00