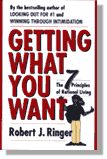 In this book, author Robert Ringer offers a thinking person's guide to success in any and all areas of life. While we should not achieve our goals at anyone's expense, Ringer believes we have a moral right to act in our best interests over the long term – provided we don't commit aggression against others. In our often wildly irrational world, which advocates quick fixes, bending the rules, and skewing the truth to the needs of the moment, Ringer has found that the path to long-term happiness lies in the creation and defense of personal values. He explains how to get what you want – be it love, career advancement, or respect – by adopting seven principles of a rational lifestyle.
* Base your actions on truth
* Focus on values, not entitlements
* Make choices with civility, dignity, honesty and humility
* Avoid those who drain your personal resources
* Rid your self of major encumbrances
* Develop the self-discipline to act on intellect, not on impulse
Learn from bad breaks and move on
Enlightening, straightforward, and candid, this book is not for people looking for banal formulas. If, however, you are tired of soggy self-help sympathy and are ready to take responsibility for your own future, this book offers a galvanizing message of independence.
About the author:
Robert J. Ruger's six books include Winning Through Intimidation and Looking Out for #1 – both number-one New York Times bestsellers. His work has been read by millions and translated into more than a dozen languages. He lives in Arizona.
The 7 Principles of Rational Living
By Robert J. Ringer
P 1,200.00